Support the SEND Action court case
Join us on Wed 26th June and Thu 27th June as we fight for the rights of Disabled children and their families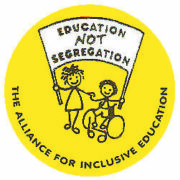 Disabled children v Secretary of State for Education and Chancellor of the Exchequer
ALLFIE (the Alliance for Inclusive Education) is supporting a case by campaign group SEND Action. This case centres on the lawfulness of government cuts to SEND (Special Educational Needs and Disability) provision.  ALLFIE be attending this important court case on Wednesday 26th and Thursday 27th June at the Royal Court of Justice, Strand, London WC2A 2LL. Put it in your diaries – come and join us from 9am onwards and show your support for disabled children and their families as they fight for proper support.
If you would like an opportunity to speak outside the court case, do join us between 12.00 noon – 1.30 pm on Wednesday or between 9.00 am – 10.30 am on Thursday.
Alternatively you can email or send us a statement that we can read out.
For further information about the court hearing – follow the web-link : https://www.allfie.org.uk/news/blog/disabled-children-v-secretary-of-state-for-education-and-chancellor-of-the-exchequer/
Do let us know if you can come.
Contact
Simone Aspis  email: simone.aspis@allfie.org.uk Tel No : 0207-737-6030  mobile number : 07856-213-837
Disclaimer:
The posts on this noticeboard are from Inclusion London member organisations. Inclusion London cannot assume any responsibility for the services advertised, and the views expressed, unless specifically stated, are not those of Inclusion London. The accessibility of any event listed is the responsibility of the event organiser, and we advise contacting the organisation directly if you have any questions about accessing the training or events listed.